X is for Xenarthra – Animal Alphabet Free Coloring Page
Xenanthra, the armadillo bold,
A knight in armor, we are told,
With a hard shell and a heart of gold,
He's a friend to all, young and old.
Did you know?
Did you know that Xenarthra is an ancient and unique order of mammals? These remarkable creatures, found primarily in Central and South America, include some of the world's most intriguing animals, such as sloths, anteaters, and armadillos. Xenarthrans are known for their distinctive jointed vertebral column, which gives them extraordinary flexibility and strength. They have evolved to occupy various ecological niches, from the slow-moving tree-dwelling sloths to the powerful, insect-eating anteaters.
Xenarthra on the free coloring page and poster.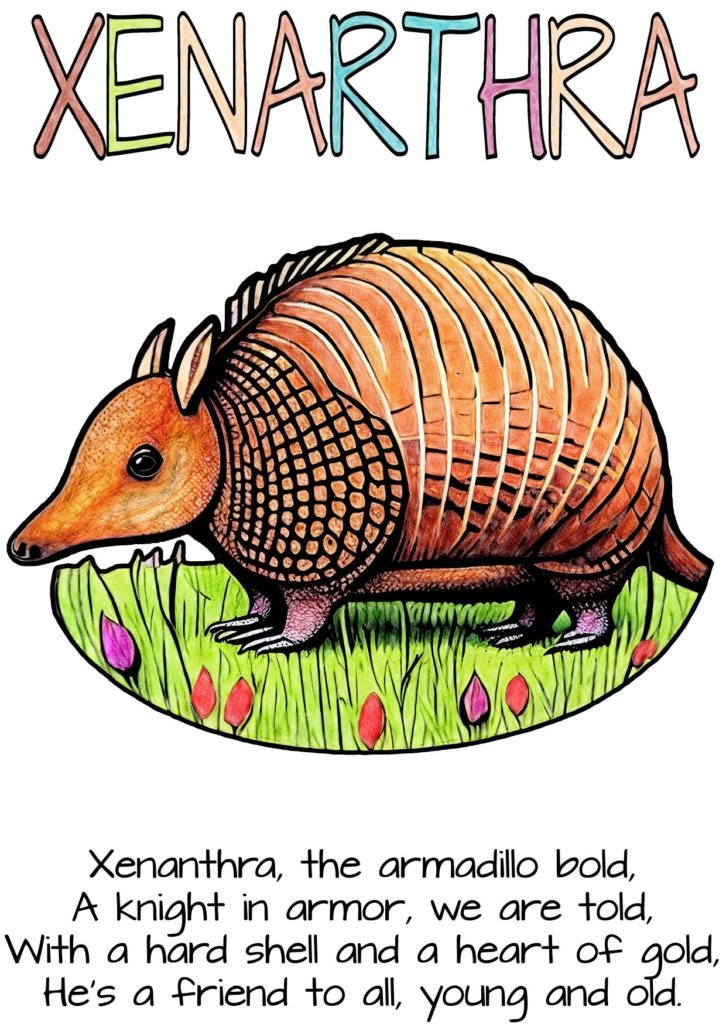 Support the Project and Bring Smiles: Plenty of Items to Buy.
I firmly believe every child deserves equal access to opportunities, regardless of their parent's financial status. That's why I'm giving everything for free. It is my humble contribution to bring smiles to kids across the globe.
However, keeping this project running and creating content comes with unavoidable costs.
Be part of my effort and make yourself feel good twice
Buy something nice and know you have supported a good cause.
Sharing, liking, and commenting will help spread this project worldwide among children and parents. It's free.
Thanks for all the support. You are wonderful.